CORPUS's Purposes
As explained in the Technology Overview that summarizes our technological efforts, CORPUS is essentially an evolving reconceptualization of what scholarly editions can become when they are ported online: not a mere searchable digital version of a book, but an active community of inquiry that welcomes serious researchers on the one hand, and the general public on the other. Whether on paper or online, critical scholarly editions seek to reconstitute and establish with rigorous exactitude and extensive evidence the texts of seminal writers and thinkers, and to produce reliable publications destined to become the common standard of reference for all scholars long in the future. Online editions, however, can avail themselves of technologies that allow editors to redesign and reinvent the very concept of dissemination. Print publications are one essential component of dissemination. But online dissemination can be something else altogether, offering a range of experience that usefully complements and supplements the research and study possibilities already afforded by hardcovers.
CORPUS is the dissemination platform we have begun designing and prototyping with the help of the Human-Centered Computing Department of the IUPUI School of Informatics and Computing. CORPUS embodies a rethink of what a critical edition ought to be online by reexamining the kinds of services it ought to provide. The aim is to turn digital editions into interactive online experiences that provide assistance to scholars while encouraging them to contribute the fruit of their own labor and make it available to anyone sharing similar interests. CORPUS also aims to provide the public at large with access to the texts, their apparatuses, and other commentaries while protecting all data from undesirable interference.
Here is a set of five missions CORPUS is to fulfill:
It will provide the public at large with electronic access to the content of our critical edition and extra materials along with sophisticated search and navigational tools.

It will provide an interactive interface allowing scholarly users to conduct research both publicly (in collaboration with others) and privately.

It will provide users with different levels of privileges allowing them to enhance the electronic product with their own scholarly contributions, such as supplemental textual annotations, cross-references, hyperlinks to the secondary literature, commentaries, targeted links to relevant webpages, etc.

It will provide everyone with access to digital images of Peirce's papers eventually cataloged in and made accessible by the Digital Peirce Archive, a platform that will authorize users to contribute metadata to that database.

It will institute a quality-assessment system that keeps track of all contributors, gauges the quality of their contributions, protects the system's integrity to guarantee a safe and productive scholarly environment, and offers peer-reviewed certifications that scholars can use as evidence of their professional worth for instance in P&T dossiers or grant applications. The main goal of that dissemination platform is to stimulate transformative scholarship—a core funding requirement of private and public funding agencies.
As to this fifth aim, there has been an enormous amount of discussion across the nation's universities regarding digital scholarship and its impact on promotion and tenure standards and processes. The continuing evolution of digital tools and dissemination media keeps broadening the channels through which the products of scholarship get published, while also diversifying the very form of those products in ways that were not envisioned even recently in terms of content presentation and interactive communication. This poses a continual challenge to the peer-reviewing and assessment standards and methods used by academic institutions to evaluate their faculty, especially as the central exigency is to secure and preserve excellence. Any accreditation and assessment system implemented in a platform such as CORPUS needs to be designed so as to offer the highest guarantees of credibility to institutions.
The Prototyping of CORPUS
Much of the work illustrated below was conducted by a team of Ph.D. and M.S. students in the HCI program of the School of Informatics, under the direction of Professor Davide Bolchini. Those students were Yuan Jia, assisted by Reecha Bharali.
The first stage in their research was to study the Peirce Project workflow, what it was all about, how STEP would be organized and what kind of materials it would feed to CORPUS for what purposes. The second stage was to conduct interview and observe how humanities researchers conduct a number of typical text-centered research activities on the computer and online.
They identified several types of routines; took notes of the sequence of actions or activities each involved; identified common types of roadblocks impeding searches, data collection, and data organization; asked interviewees what features they especially wished CORPUS to provide; and then they began designing several ideations of the platform, each one focused on a distinct set of tasks.
The first two illustrations below concisely captures a network of actions and purposes related to the types of data a platform like STEP would make available to scholars within CORPUS who seek to browse, learn, study, take notes, create content, share or discuss those contents with others, and collaborate on specific tasks.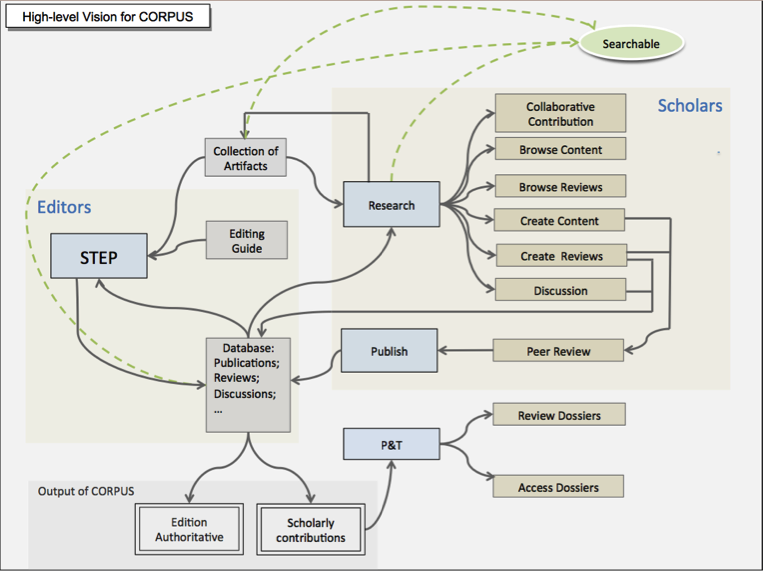 Mapping several core functions of CORPUS in relation to distinct purposes: conducting research, contributing to CORPUS, seeking accreditation for those contributions.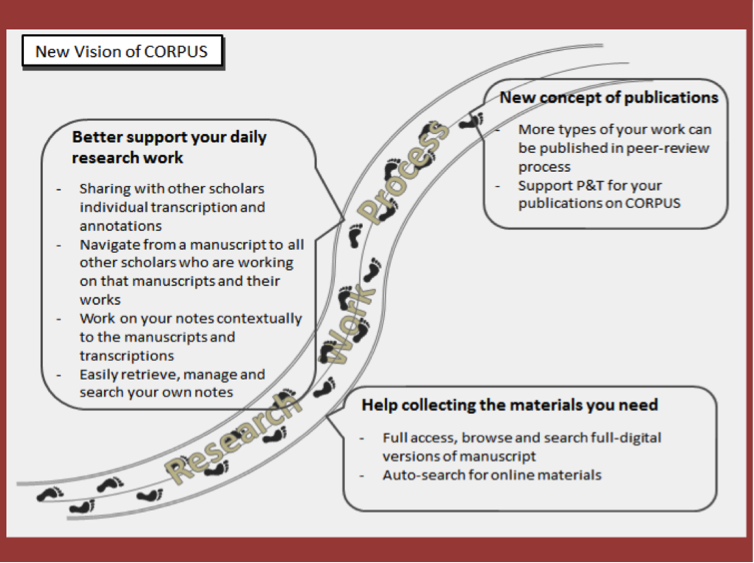 Focusing on several requisites or desiderata expressed by scholars regarding CORPUS.
The first ideation (shown below) reflected upon and collected several key components that would be needed to design an interface facilitating access to manuscript images and their corresponding critically edited transcriptions.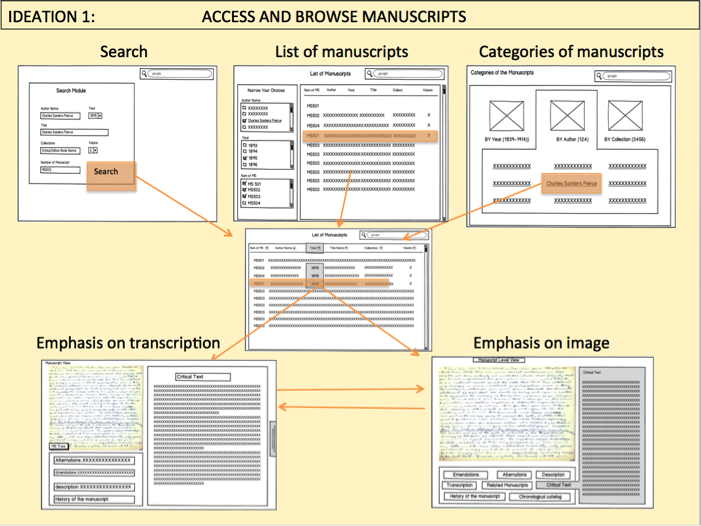 The second ideation below conducted the same kind of reflection regarding an interface facilitating access to an author's published texts and their possible links to manuscripts and other types of data available in CORPUS.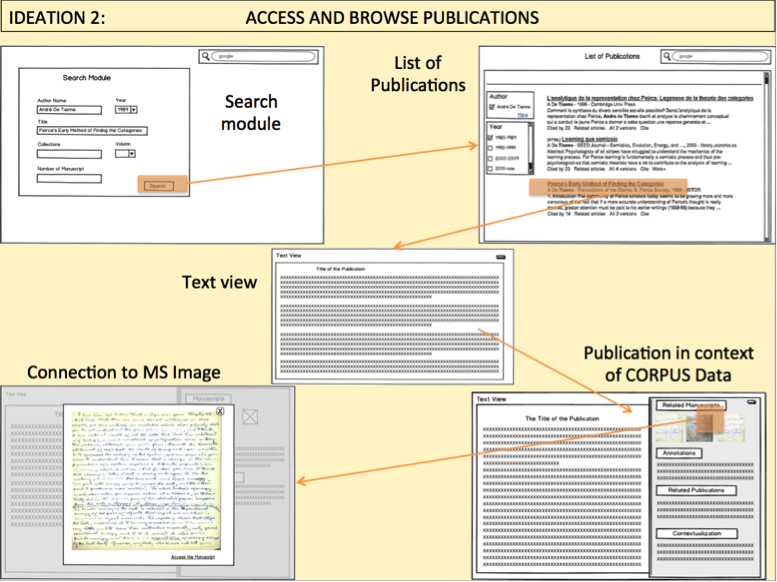 The third ideation focused on those components of CORPUS that would go into shaping up the user's workbench: an area from where users can navigate throughout CORPUS and return to in order to initiate new projects, resume old ones, assess the status of one's contributions, administer private and collaborative work, and so on.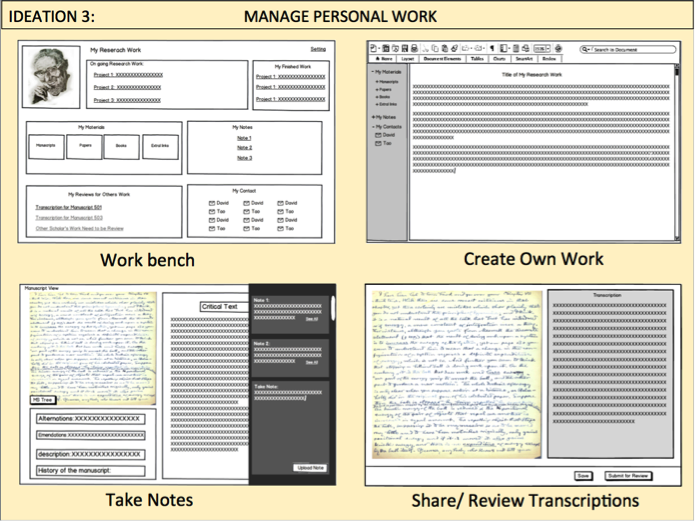 A fourth ideation sought to visualize dynamic relations between key CORPUS elements, an essential step in order to understand how to organize links and relations of dependencies among databases and other components.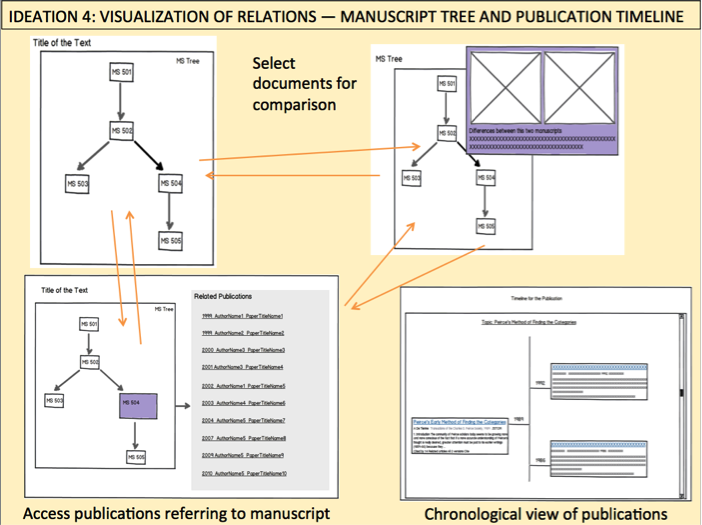 Another way of looking at those connections is shown below, this time taken from the standpoint of users accessing materials for purposes of writing, reading, contributing, sharing, and reviewing.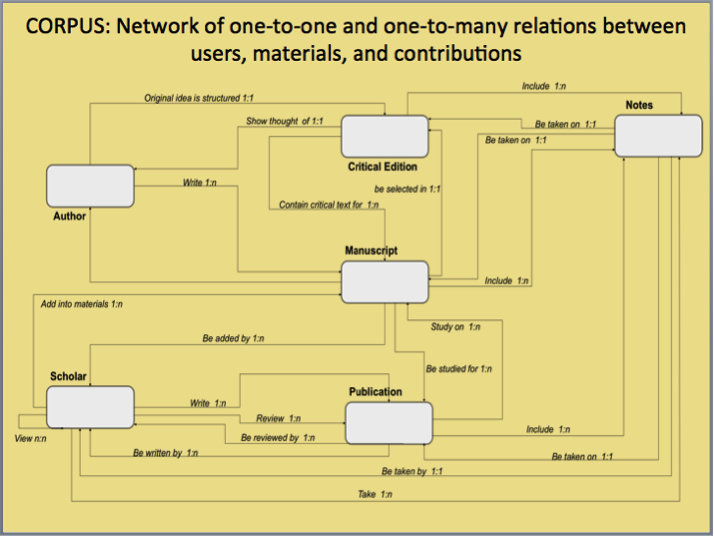 Based on all of those ideations, the HCI team then began designing ways of integrating them and consolidating them within a preliminary design of a possible CORPUS platform—i.e., a prototype of how it might look like and work like (indeed, the online prototype is dynamic and can be clicked on to move from place to another, to create notes linked to manuscripts, and to view the texts from distinct perspectives).
The three following illustrations show the prototype of the main work space. These are not three separate work places but just one that one scrolls through from the top to the bottom. The five main areas include "My Materials," My Projects," "My Reviews," "My Publications," and "My Notes."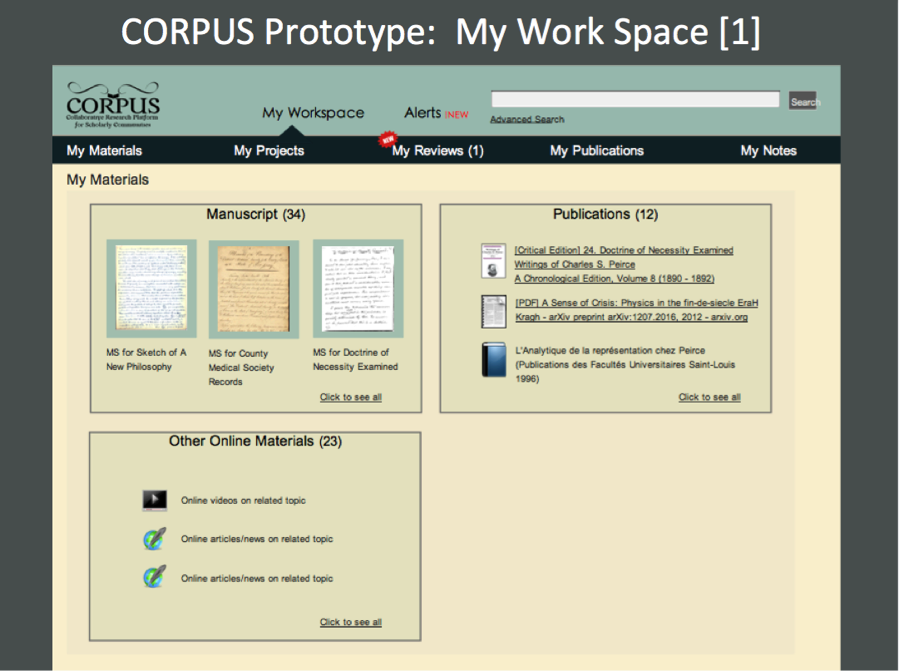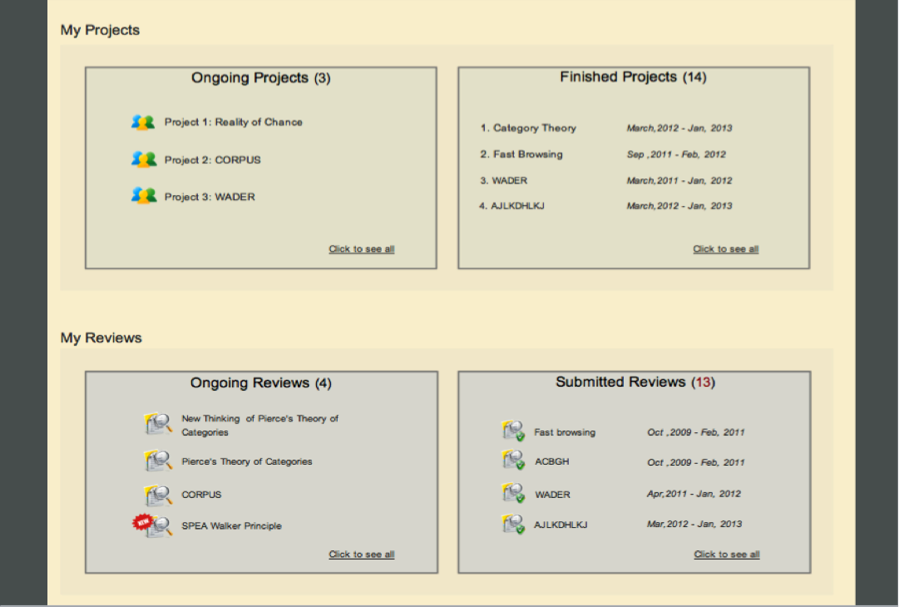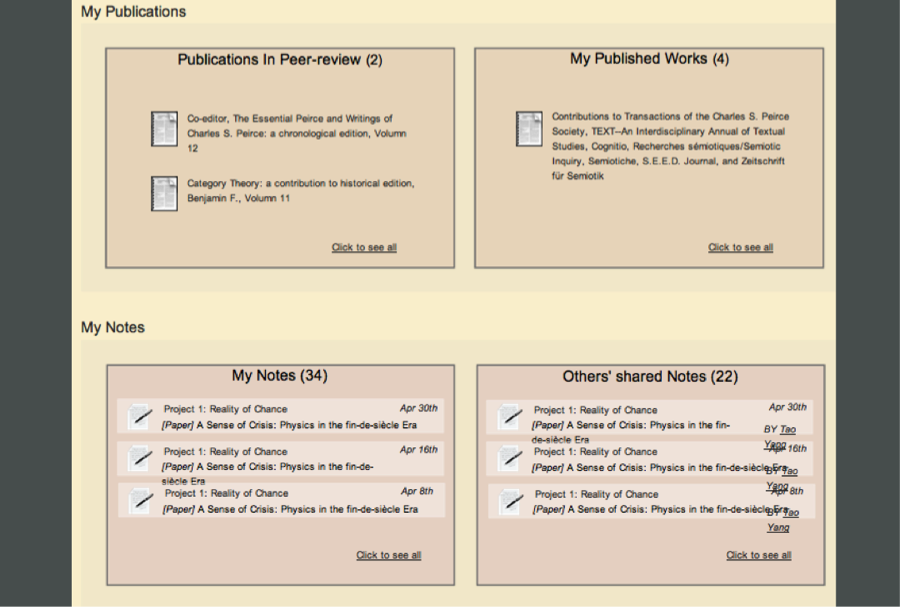 Shown below is a view of the interface component that would provide access to a manuscript image and its edited transcription, where access to the image is emphasized.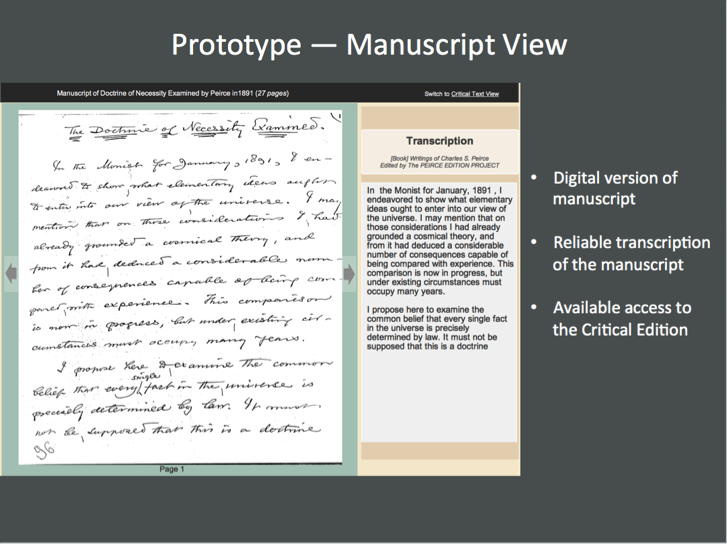 The next illustration reverses the focus, emphasizing access to the transcription itself, and bringing apparatus annotations tools under the user's fingertips.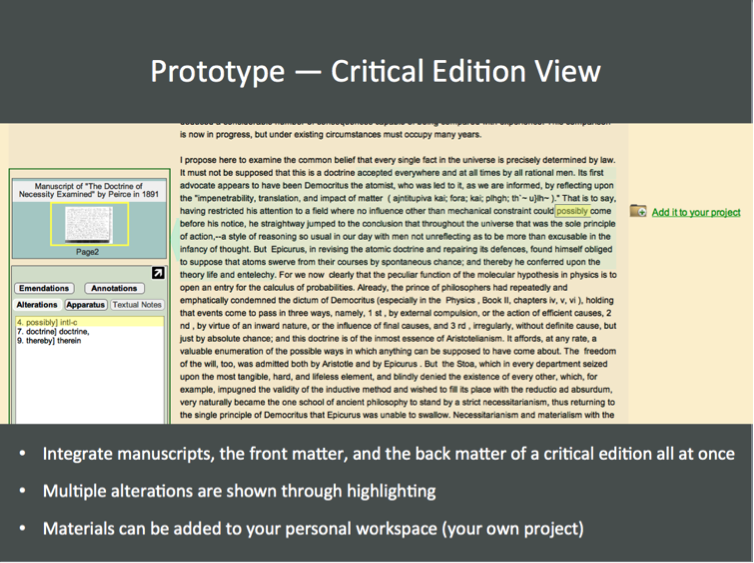 Finally, attention has been paid to the peer-reviewing process to be embedded within CORPUS. This is an essential incentive to encourage scholars to access and use CORPUS in a collaborative spirit of rigorous but generous scholarship, with the advantage of having one's professionalism recognized by the community of scholars.